Arab rights group petitions Israel's Supreme Court against Jewish nation law
The new law makes no mention of equality or democracy, meaning that the country's Jewish character is prioritised over Palestinians, Druze and Circassians in Israel.
Adalah - The Legal Center for Arab Minority Rights in Israel filed a petition against the new Jewish Nation-State Basic Law at the Israeli High Court.
Arab citizens account for some 21 percent of Israel's more than 8.8 million population; they have equal voting rights, freedom of religion, speech, press and assembly, but many have long complained of discrimination. There are also two Basic Laws on human rights, both of which explicitly define Israel as a "Jewish and democratic state.".
Unlike the Muslim and Christian Arab minorities, Israeli Druze are drafted to the military and many strongly identify as Israeli.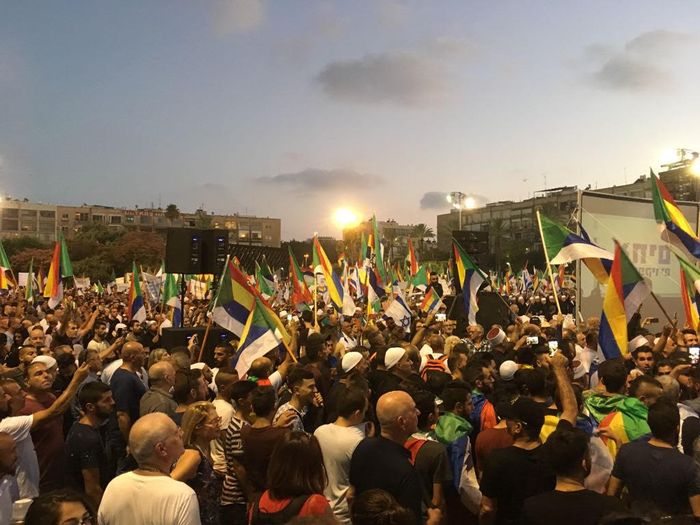 Arab rights group petitions Israel's Supreme Court against Jewish nation law
Tens of thousands of Druze Israelis, along with Jewish supporters, thronged a Tel Aviv square on Saturday night in a rare demonstration against government policy by the typically muted community.
"The real question is who is for and who is against the Declaration of Independence, and why is Prime Minister Benjamin Netanyahu against the Declaration of Independence?" It emphasizes the Jewish nature of the state, promotes specifically Jewish settlement and elevates the status of Hebrew over Arabic.
Filed by legal rights group Adalah, the petition said the law passed by the Knesset last month is "racist, massively harmful to fundamental human rights and contravenes worldwide human rights norms, especially those forbidding laws that constitute a racist constitution", according to a statement.
Article 7 "marks Arab citizens - wherever they may be - as "the other" and the state must therefore discriminate in the allocation of land, housing, budgets and incentives, and land planning and zoning".
More news: Michael Moore releases trailer for Trump documentary Fahrenheit 11/9 — TRAILERCHEST
Ma'an reported that, according to the Times of Israel, during an interview with the official Israeli Army Radio, Shaked said that the Israeli High Court has no right to strike down the law on constitutional grounds, because it was passed as a Basic Law.
Proponents of the law, including Israeli Public Security Minister Gilad Erdan, have said that those attacking the law have an anti-government agenda seeking to stir division in the country and there is nothing in the law hurting the Druze community.
"This morning when I woke up to return to my base, I asked myself why?"
"Any law that denies Palestinians their civil and national rights is racist, colonialist and illegitimate", it said.
More news: Another strong quake hits Indonesia's Lombok, witnesses say buildings have collapsed
"This country that I, along with my two brothers, and my father, served with dedication, goal and love of our homeland - in the end, what do we get, we are second-class citizens", he wrote.
"After a lot of thought, I chose to leave the army and not continue serving the country, a country that has a government that takes and does not give back", he said.
More news: Arsenal chief Burgess: No pushback from players over Emery's new training methods